One of the most infamous robberies of all time, 1963's Great Train Robbery involved the hijack of a London-bound train, and the theft of millions of pounds.
Late on Wednesday 7 August 1963, a Traveling Post Office train left Glasgow for Euston. On board, staff sorted the mail and parcels prior to its arrival in London.
The second carriage from the front of the train was a High Value Package carriage, where registered mail was sorted. Much of this consisted of cash. Usually the value of these items would have been in the region of £300,000 but, because there had been a Bank Holiday weekend in Scotland the total on the day of the robbery was £2.3 million (about £30 million today).
The wrong signal
The train ( a Class 40 diesel) passed Leighton Buzzard at about 3am on 8 August 1963, and moments  later the driver, Jack Mills saw a red signal ahead at a place called Sears Crossing.
The signal was false. A glove had been stuffed onto the proper signal and the red light was activated by attaching it to a six volt battery. When Mills stopped, his co-driver David Whitby climbed out of the diesel engine to ring the signalman to ascertain the problem.
He discovered that the cables from the line-side phone had been cut and as he turned to return to his train he was attacked and thrown down the steep railway embankment.
Meanwhile, a masked man climbed into the train cab and coshed the driver around the head rendering him unconscious. Meanwhile, other robbers uncoupled most of the carriages, leaving on the engine and the first two carriages containing the high-value property.
The steep embankments at Sears crossing were unpractical for removing the loot from the train but the gang had planned to drive the train a mile further to Bridego Bridge. Here, Land Rovers were waiting to transport the cash to a nearby hideout.  The engine and the first two carriages were uncoupled from the rest of the train and driven a short distance down the track to Bridego Bridge. The robbers assaulted the train driver, Jack Mills, to force him to move the train as the driver they had brought along could not operate the controls on this type of locomotive.
Soon the well-planned heist encountered a problem. One of the gang had spent months befriending railway staff on the pretense of being a railway enthusiast. He had been allowed rides in the cabs of trains and had even been permitted to drive a few trains.
His part in the robbery was to drive the train to the rendezvous point but as he climbed into the cab of the train he realised that this huge diesel train was far more complicated than the local trains he had previously traveled in. One of the gang, Ronnie Biggs, had to rouse the driver to continue the journey.
In the front two carriages, frightened Post Office staff were pushed to one end by some of the fifteen strong gang – but, in the remaining ten carriages left at Sears Crossing, staff did not even realise anything had happened.
A human chain of robbers
The rest of the gang were waiting by the bridge with a van. An axe and a crowbar were used to break into the door on the back of the rear carriage. The gang had assigned 15 minutes to unload as many mailbags as possible. They then drove along country roads in a van and two Landrovers to a hideout 17 miles (27km) away.
At Bridego Bridge a human chain of robbers removed 120 sacks containing two-and-a-half-tons of money. The robbery was well organised and swift. Before leaving, one of the gang ordered Post Office staff to stay still for 30 minutes before contacting the police. This gave the investigators an important clue, they suspected that the gang had a hideout within a 30 minute drive of the scene.
This was indeed the case. An old farmhouse in Oakley Buckinghamshire, Letherslade Farm, had been rented and during the next few days the jubilant gang shared out the cash. They even played Monopoly using real money.
The robbers had cut the cables on the trackside telephones and it wasn't until around 4:30am that one of the Royal Mail employees made it to Cheddington Station to alert the police. It was five days until the gang's hideout was found – abandoned but containing the forensic evidence that would eventually see them convicted.
A huge police investigation was launched, run by the Flying Squad at Scotland Yard and senior detectives from the Buckinghamshire Police. The officer in overall command was Detective Chief Superintendent Jack Slipper.
British Transport Police had a small role to play in the investigation, mainly conducting enquiries, obtaining lists of staff and suspects.
Back at the farm, the gang were becoming spooked by low flying RAF aircraft who were actually on training runs and nothing to do with the manhunt that had now been established. They split the money which was mainly in used £1 and £5 notes (Biggs was to receive £147,000) and left the scene immediately rather than 'lying low' for several weeks as they had planned.
A nearby resident became suspicious of the comings and goings at the farm and advised the police. PC John Wooley responded to the report and found large amounts of abandoned food and provisions. Sleeping bags and bedding had been left in upstairs rooms and in the cellar, bank note wrappers, post office sacks and registered mail packages.
Fingerprints on the Monopoly board
A thorough examination found several fingerprints including some on the Monopoly board and others on a ketchup bottle. These fingerprints and other enquiries led to the offenders and one by one they were arrested. The British Transport Police headquarters at Park Royal in north London was regularly updated of the progress of the investigation and the chief constable was sent supplementary crime reports giving the names and details of those involved.
They all eventually appeared in court. The mastermind of the operation, Bruce Reynolds took five years to track down but received ten years imprisonment. Ronnie Biggs received 30 years but escaped from Wandsworth prison in a furniture van only 15 months later. His flight to Brazil (via Spain and Australia) and subsequent return to the UK in May 2001 have been well documented.
The verdict
The gang received a total of 307 years imprisonment. Despite the huge amount of money stolen none of the thieves were able to live happily on their ill-gotten gains. Buster Edwards ended up running a flower stall at Waterloo station. He received a lot of publicity in 1988 when Phil Collins played him in the film Buster. He took his own life in the late 1990s. James Hussey and Thomas Wisbey were convicted in 1989 for trafficking drugs, while Charles Wilson was shot and killed in Spain.
It must be said that the Great Train Robbery was brilliantly planned and executed. Apart from the attack on the train driver it was non-violent and no firearms were used. The raiders managed to steal much more money than they had planned and perhaps it was the greed in sharing all the money out which led to them being careless and leaving so many fingerprints behind, sealing their own fate.
How the Great Train Robbery unfolded
The scale of the robbery captivated the British public
The Great Train Robbery of 1963 was the most famous raid of an era in which some criminals became celebrities.
The gang, taking inspiration from the rail robberies of the Wild West, raided a Glasgow to London mail train and escaped with £2.6m in used bank notes – a record haul at that time.
The mastermind was Bruce Reynolds, a known armed burglar.
Using inside information on mail movements, he assembled a gang to intercept the overnight train in a quiet part of Buckinghamshire.
The robbers struck on 8 August 1963 when the train stopped near Cheddington after the gang had changed a signal to red.
Fifteen men wearing ski masks and helmets swarmed onto the train and grabbed 120 bags of money.
Train driver Jack Mills was struck over the head with an iron bar, although it has never been established who was responsible, and he would never work again.
Police launched an immediate manhunt for the robbers, whose crime had captivated the British public, because of its scale.
Five days after the robbery, a tip-off led police to the gang's hideout at Leatherslade Farm, about 20 miles from the crime scene, near Oakley.
Charlie Wilson was the first Great Train Robber to be charged
The gang had escaped there to share out the proceeds of their robbery, which would amount to more than £40m in 2009.
It is believed the men played Monopoly at the farmhouse using some of the notes stolen from the mail train.
They fled the property before police arrived, but their fingerprints were found all over the house.
The gang contained a number of members who already had criminal records, which provided vital evidence for police.
Nine days after the robbery, Charlie Wilson became the first member of the gang to be arrested and charged.
By January 1964, police had gathered enough evidence for 12 of the 15 to be put on trial in Aylesbury, Buckinghamshire.
By April all 12 men had been convicted, with only one of them, Roger Cordrey, who gave back his £80,000 share of the money, pleading guilty.
Eleven of the men were each sentenced to between 20 and 30 years in prison.
In passing sentence, Mr Justice Edmund Davies focused on the violence used against Mr Mills.
He said: "Let us clear out of the way any romantic notions of daredevilry. This is nothing less than a sordid crime of violence inspired by vast greed."
Reynolds (r) joined Biggs (c) for his 70th birthday celebrations in Brazil
The 12th convicted man, solicitor John Wheater, was jailed for three years for obtaining the farm as a hideout.
However, it was accepted he had not known about the robbery until after it had happened.
The three Great Train Robbers not put on trial in 1964 had all been jailed within five years.
They included Buster Edwards, later the subject of a film starring Phil Collins, who went on the run to Mexico but gave himself up in 1968, and mastermind Reynolds.
Within two years of the first trial, both Charlie Wilson and Ronnie Biggs had escaped from prison, adding to the notoriety surrounding the robbery.
Wilson was caught in Canada in 1968, but Biggs became the UK's most famous fugitive as he continued to evade recapture until giving himself up by flying back to the UK from Brazil in 2001.
He was immediately arrested and taken to high-security Belmarsh prison to serve out the remainder of his original sentence, before later moving to Norwich prison on compassionate grounds in 2007.
His lawyers say he has suffered two strokes and now cannot speak or eat due to facial paralysis.
His son Michael, whose birth had prevented Biggs's extradition from Brazil, has campaigned for his father's release ever since his return to the UK.
Who were the Great Train Robbers
Bruce Reynolds, the man who planned the £2.6m Great Train Robbery in 1963, has died aged 81. The haul the 15 men secured from a mail train, stopped in Buckinghamshire, was a record at that time. So who were the other gang members and what is know about what happened to them in later life?
Bruce Reynolds
In his 1995 memoirs, Bruce Reynolds said the robbery was a curse (Getty Images/PA)
Bruce Reynolds, a thief and antiques dealer, planned the robbery that has become one of the most notorious in British criminal history.
Nicknamed "Napoleon", he first fled to Mexico on a false passport then later to Canada with his wife Angela and son Nick.
In 1968, five years after the crime, Reynolds returned to England and was captured in Torquay and jailed for 25 years.
He was released in 1978 and lived alone and broke in a small flat off London's Edgware Road. He was jailed again in the 1980s for three years for dealing amphetamines.
After his second release, Reynolds went on to work briefly as a consultant on a film about the robbery, Buster, and published the Autobiography of a Thief in 1995. His son Nick said his father had died in his sleep in the early hours of 28 February 2013.
Ronnie Biggs
In 2001, Ronnie Biggs told the Sun he was willing to return to Britain (Getty Images/Reuters)
Ronald Arthur "Ronnie" Biggs was jailed in 1964 for his part in the robbery, but his subsequent escape from prison and his life as a fugitive for 36 years gained him notoriety.
After fleeing over the wall of London's Wandsworth prison in April 1965, Biggs had plastic surgery and moved firstly to Australia and then Brazil, evading a number of arrests, extradition and even kidnap. During this time he courted the media with his story.
Eventually in 2001, when he was very ill, he decided to return to Britain to face arrest.
His health continued to deteriorate while serving the remainder of his sentence, and he was finally freed in 2009 on "compassionate grounds" by then Justice Secretary Jack Straw.
Ronald 'Buster' Edwards
Edwards gave himself up in 1966 Ronald "Buster" Edwards, who is perhaps best known as the subject of the 1988 film Buster, in which he was played by singer Phil Collins, is widely believed to have wielded the cosh used to hit train driver Jack Mills over the head.
Like Reynolds, the former boxer and club owner fled to Mexico after the robbery, but gave himself up in 1966.
After serving nine years in jail, he became a familiar figure selling flowers outside London's Waterloo station. He was found hanged in a garage in 1994 at the age of 62.
Two wreaths in the shape of trains accompanied his funeral cortege.
Charlie Wilson
Wilson went on trial at Aylesbury Crown Court in 1964
Charles Frederick Wilson was the "treasurer" who gave each of the robbers their cut of the haul.
He was captured quickly and during his trial earned the nickname "the silent man" because he refused to say anything.
He was jailed for 30 years but escaped after just four months only to be captured again in Canada after four years on the run. He served another decade behind bars.
When he finally emerged from prison in 1978, he moved to Spain where he was shot and killed by a hitman on a bicycle in 1990.
Roy James
Roy James, who was the chief getaway driver and nicknamed "Weasel", left a crucial fingerprint at the gang's farm hideout and was eventually caught after a rooftop chase.
A silversmith and proficient racing driver, he planned to invest his share of the cash in new car technology.
After serving 12 years of a 30-year sentence, he sold silver at a market before moving to Spain.
In 1993 he was jailed again for six years for shooting his wife's father and hitting her with a pistol. He died soon after getting out of prison, aged 62.
Brian Field
A crooked solicitor, Brian Field was used to make the arrangements to buy the farm hideout used immediately after the robbery.
He was sentenced to 25 years in jail, but that term was later reduced to five. He died in a motorway crash in 1979.
Tommy Wisbey
A bookie and self-confessed "heavy", it was Tommy Wisbey's role to frighten the train staff. He was sentenced to 30 years and released in 1976, but he was jailed for another 10 years in 1989 for cocaine dealing.
After his release, he ran a flower stall and went to live in north London. He suffered several strokes as his health deteriorated.
Bobby Welch
Nightclub boss Bobby Welch was sentenced to 30 years and released in 1976. He was later left crippled when an operation on his leg went wrong.
After jail he became a car dealer and gambler in London.
Gordon Goody
A hairdresser who was jailed for 30 years and released in 1975, Gordon Goody moved to Spain to run a bar after release.
James Hussey
A decorator known as "Big Jim", James Hussey was sentenced to 30 years and released in 1975. After working on a market stall, he later opened a restaurant in Soho.
In 1989 he was jailed for seven years for a drug smuggling conspiracy with fellow train robber Wisbey.
Roger Cordrey
Florist Roger Cordrey was arrested in Bournemouth after renting a lock-up from a policeman's widow.
He was jailed for 20 years, reduced to 14 on appeal.
Following his release in 1971, he went back to the flower business and moved to the West Country.
Jimmy White
Jimmy White, a former paratrooper, was known as "quartermaster" for the robbery.
He was caught in Kent after three years on the run and sentenced to 18 years. He was released in 1975 and moved to Sussex.
Bill Boal
Engineer Bill Boal was arrested with Cordrey in possession of £141,000, charged with receiving stolen goods and jailed for 24 years, reduced to 14 on appeal.
Reynolds claimed Boal was not involved in the robbery and was "an innocent man". He died of cancer in jail in 1970.
Leonard Field
A merchant seaman, Leonard Field was sentenced to 25 years, reduced to five. He was released from jail in 1967 and moved to north London.
John Wheater
A solicitor who was convicted of conspiring to pervert the course of justice. He was sentenced to three years and released in 1966. He went to live in Surrey.
The (not so) Great Train Robbery
On their tracks … the scene of the crime
BRUCE REYNOLDS looked at his watch, pulled the walkie-talkie from his pocket and called into it three times: "This is it."
Smoking a Montecristo No2 cigar and wearing a fake major's uniform and SAS cap badge, he was self-absorbed, violent and determined.
Dressing in army uniforms and pretending to be a band of soldiers on a daring mission was just his style. He revelled in the planning of his work and if that involved a bit of theatre, so much the better.
The gang had decided they could take no longer than 30 minutes to carry out the robbery. But in truth they had no way of knowing how long they would have before someone raised the alarm when they realised something was amiss with the usually impeccable schedule of the Glasgow-to-London mail train.
It was 3am on August 8, 1963 as the train came to a halt at a red signal on the West Coast Main Line at Sears Crossing near Leighton Buzzard in Bedfordshire. One of the gang, Roger Cordrey, had unscrewed the bulb from a green light and connected a red light to a battery to stop the train.
What the gang didn't know was that unscrewing the green light's bulb had triggered an alarm at a nearby manned signal box in Leighton Buzzard.
Meanwhile in the train's cab, driver Jack Mills applied the brakes to the 368 tons of speeding locomotive with its 12 carriages. He and the train's fireman Dave Whitby were confused by the red signal, as another one along the line at Cheddington still appeared to be green.
Around the track hid the rest of the 17-strong gang — Jimmy White, Roy James, Bob Welch, Buster Edwards and two unknown members on the east side and Gordon Goody, Charlie Wilson, Tommy Wisbey, Jim Hussey, Ronnie Biggs, another unknown and "Pop", the gang's specially recruited train driver on the west.
It was 3.03am as Whitby climbed down from the cab to use a trackside phone — then noticed its wires had been cut.
As he walked back to the cab he saw a man in bib and braces between two of the coaches, who he took to be a railway worker.
Inspection … looking at the robbed train's disconnected brake pipes
"What's up, mate?" he called. But after beckoning him over, the man seized him and pushed him down the embankment and into the hands of two other gang members. One rolled on top of him, put his hand over Whitby's mouth and held a cosh to his face. "If you shout, I'll kill you," he said.
Terrifed Whitby told him: "You're all right mate, I'm on your side."
Meanwhile gang member Buster Edwards, in a blue boiler suit and green balaclava, climbed into the cab carrying a metal bar almost two feet long and wrapped in a white cloth.
As driver Mills fended him off, a second masked bandit climbed through the opposite door and grabbed him from behind.
The next thing he knew, he was on his knees and the cab was filled with men in boiler suits wielding pipes and clubs.
While defence barristers later claimed that Mills's serious injuries were caused when he hit his head after falling, the driver later said: "I don't remember anything after the first blow. I sank to my knees. The next thing I remember I was on my knees on the floor."
Buster Edwards was named as the man who struck the driver, but he later denied it, claiming he knew the real culprit but would not identify him.
Mills was laid out in the narrow passageway next to the engine, with Whitby held prisoner beside him.
Further back, Jimmy White and Roy James uncoupled the engine and the first two carriages from the front of the train.
Next, Ronnie Biggs and Pop were summoned. Pop's task was to drive the train 1,100 yards to the rendezvous point, Bridego Bridge, where the cash would be unloaded into waiting vehicles.
Pop sat in the driver's seat and fiddled with the controls — but the train would not move.
What none of the gang realised was that James and White had failed to seal the brake connecting pipe while uncoupling coach two from the rest of the train.
It was an example of the gang's lack of technical understanding and threatened to put the robbers' entire project in jeopardy.
Also, Pop's job on the railways had been as a shunter, on trains which used air brakes, and he had no experience of the vacuum brakes of the Class 40 locomotive he was now trying to move.
Finally Goody demanded that the gang fetch the driver and, despite his head injury, he was ordered to move the train.
Mail … found at the gang's hideout
On a nearby road, the B488, Bruce Reynolds started the Land Rover as he watched the slow progress of the train as it travelled the half mile to the bridge.
Arriving ahead of the train, he clambered up the embankment in time to guide it to a stop at a white marker which the gang had erected earlier.
"Marvellous, just marvellous," was how Reynolds described the sight of the engine coming towards him.
It had what he called "members of the firm" hanging off it, waving their arms and shouting instructions about where it was to stop.
Quickly the gang converged on the High Value Package, or HVP coach. Only a set of bolted timber doors, a few panes of glass and a handful of frightened postal workers stood between them and a fortune in used banknotes. At 3.15am Charlie Wilson smashed the window of the carriage with a pickaxe handle, hurling himself through.
In an attempt to hold back the raiders, some of the postal workers piled mailbags against the sliding doors while others ran to bolt the doors and windows.
Another window shattered and two masked men climbed in, waving coshes, while others burst through the rear gangway with one waving an axe.
The terrified HVP crew were herded to the front of the coach under a hail of blows, while in the cab Whitby and Mills were handcuffed together.
Moving 120 mailbags weighing a total of two and a half tons down a steep railway embankment in a hurry was hard work. Bag after bag was passed down a chain of eager hands to be dumped in the back of an old Austin lorry.
At 3.30am Reynolds checked his watch and called time. Charlie Wilson shouted down that there were only a few bags left in the coach, but Reynolds was insistent and the discipline of their plan held firm.
One by one the gang members stopped and clambered into their allotted vehicles. One of the gang told their prisoners not to move for half an hour, warning that they would be hurt if they did, claiming two men would stand guard to watch over them.
As dawn arrived on Thursday morning the scene at Bridego Bridge was eerily quiet. Just seven sacks remained on board as the old army lorry and two Land Rovers turned at the bottom of the lane and drove away.
In under half an hour in the early hours of August 8, the train robbers had become rich beyond most people's wildest dreams — despite their botches and bungles.
Where are they now?
Jail break … Ronnie Biggs
Suicide … Ronald 'Buster' Edwards
AMONG the surviving members of the 17-strong gang are…
RONNIE BIGGS: The most famous of the train robbers was caught soon after the heist and jailed for 30 years. But in July 1965 he escaped London's Wandsworth jail and made it to Brazil, where he lived until 2001. Then he was brought back to Britain by The Sun to face justice and was later freed due to ill health.
JIMMY WHITE: Former paratrooper, thought to be living in Sussex.
BOB WELCH: Crippled by a jail op, thought to be in south London.
Gang leader … Bruce Reynolds
Captured … Charlie Wilson
GORDON GOODY: Living in Spain, where he moved after his release from jail to set up a bar.
ROGER CORDREY: Set up a flower business after release. Thought to be living in the West Country.
TOMMY WISBEY: Living in Islington, north London, having served time for drug importation since his Train Robbery release.
POPS: The train driver hired by Biggs was never caught or identified.
Heart attack … David Whitby
Many of those involved in the raid are dead…
JACK MILLS: The train driver never fully recovered from his injury, dying from chronic lymphatic leukaemia seven years later aged 64.
DAVID WHITBY: The train's fireman died of a heart attack aged 34, nine years after the robbery.
BRUCE REYNOLDS: The gang leader fled to Mexico, then Canada, before returning in 1968 and serving ten years. He died in February this year.
RONALD "BUSTER" EDWARDS: Fled to Mexico but gave himself up in 1966 and served nine years. Committed suicide by hanging himself at 62.
CHARLIE WILSON: Captured and jailed for 30 years, he was shot dead on his doorstep in Marbella in 1990.
Great Train Robber Who Got Away
Fifty years on, surviving gang member finally names the mysterious informant known only as 'the Ulsterman'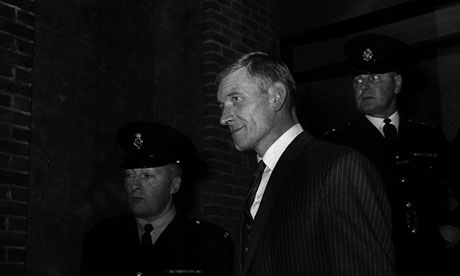 Douglas Gordon Goody at his trial in 1964. Sentenced to 30 years for his part in the Great Train Robbery, he now lives in Spain.
The identity of the mysterious "fixer" behind the Great Train Robbery, the 50th anniversary of which occurs this week, is to be revealed by a member of the gang responsible for the infamous raid.
Known only as "the Ulsterman", the informant possessed inside information about the supposedly secret Royal Mail trains that were being used to carry large sums of money between Glasgow and London each night. Now Douglas Gordon Goody, sentenced to 30 years for his part in the robbery, will name the insider for the first time in a documentary set to air later this year.
Goody, 84, now living in Spain, says he first heard about the robbery plan from crooked solicitors' clerk Brian Field. "I had just been acquitted of a robbery at the Old Bailey and Brian called me into his office. There was no mention of a train – just that there was a large sum of money in transit and a large, well-organised gang would easily be able to liberate it. Brian wanted to know if I was interested."
Goody owned a chain of hair salons but made his main living as a safe cracker and thief. Just months earlier, he and others in the South West Gang, which included Bruce Reynolds, Charlie Wilson and Ronald "Buster" Edwards, had carried out a raid at Heathrow, escaping with £62,000 – around £1m today. Coincidentally, the gang had also robbed several trains in the past, posing as passengers and pulling the communications cord to stop them at convenient points between stations.
Field arranged for Goody to meet the Ulsterman.The pair bonded over the fact that Goody had spent much of his childhood in County Tyrone. "It was just supposed to be me but Buster was there as well. We had two more meetings, one at Finsbury Park, another at Marble Arch, and he gave us a bit more information each time. It wasn't until after that that I took the plan to Bruce and the others."
Goody and Edwards were the only members of the gang ever to meet the Ulsterman. Goody handed over his share of the loot the night after the £2.6m robbery – around £150,000 – and never saw him again. Brian Field died in 1979 while Edwards died in 1994, leaving Goody as the only living person who knows the Ulsterman's identity. The mystery figure remains the only one of the 17 criminals with a full share of the stolen money to get clean away with it. Goody has indicated that, due to the passage of time, there is no longer any reason to keep the man's name secret. The Ulsterman is believed to have died some time ago.
Another member of the gang, John Daly, was acquitted of all charges but his share of the money was stolen by those looking after it during his trial. He turned his back on crime and worked as a dustman in Cornwall. Only his closest friends and family knew of his involvement in the crime.He died in May.
Although Bruce Reynolds, who also died this year, is portrayed as the mastermind of the robbery, this was not the view of the authorities. Shortly after Goody began his sentence at Durham prison, police officers called in the army to guard him after rumours that an escape attempt was in the planning.
In an interview with the press, the then chief constable of Durham revealed that friends of Goody were planning a full-scale military attack to free him "even to the extent of using tanks, bombs and what I believe are known as limited atomic weapons". He said Goody was the brains of the outfit and that the gang would attempt to free him at all costs.
The Great Train Robbers Gallery
The Great Train Robbery Trial
The Great Train Robbery trial opened on 20 January 1964 at the District Council Chamber in Aylesbury. Lord Chief Justice Edmund Davies was the presiding judge. The gang was transported each day from the prison to the court in a heavily guarded police bus.
The charge was 'conspiracy to stop a mail with intent to rob said mail'. Caught "bang to rights", Cordrey pleaded guilty. Finger print evidence was presented and Jack Mills gave evidence.
Karin Field, wife of Brian Field, was approached and asked for £3,000 to bribe the jury. Wilson told his wife to meet the would be extortionist at a house in Clapham. The extortionist was met by friends of Wilson who attempted to nail him to tree on Clapham Common. He escaped.
On 6 February the retrial of Ronald Biggs was ordered after Inspector Basil Morris lets slip that Biggs had served time in prison. On 11 February the prosecution rested and the defence started. The defence won a quick victory when on 14 February John Daly was acquitted.
The trial's summing up took four days. What was agreed was that the prosecution could not prove who had been at the track, even how many. Instead the jury were told that the prosecution's case was to link Leatherslade Farm to the robbery, and if they could place people at the farm this was proof enough of their guilt in the train robbery.
On 23 March the jury retired after a 49-day trial. The trial formally ended on 26 March with a guilty verdict on all the gang members charged.
On 8 April Biggs' retrial got underway. It lasted only until 14 April when a guilty verdict was swiftly reached. The following day Lord Chief Justice Edmund Davies passed sentence on Great Train Robbery gang.
The gang was not taken back to the court, but to the Assizes where they could be held and locked in the cells before being brought in to court one-by-one to hear their sentence.
Most of gang received concurrent sentences of 30 years (10,957 days) and 25 years. The crime was 'robbery – being armed with an offensive weapon' (30 years) and 'conspire / robbery with violence' (25 years).
The trial had lasted in total for 51 workings days over a period of 10 weeks. Evidence had been heard from 264 witnesses and an estimated 2.5 million words had been spoken. The words filled over 30,000 foolscap pages. The 12 jurors, who were paid 50 shillings a day, had examined 613 exhibits and listened to 21 barristers.
After the sentences were handed down the gang were split up amongst some of Britain's most secure prisons. Biggs was transferred to HMP Lincoln.
In March Reynolds made his preparations to leave the UK and in May he slipped out of Britain for Mexico. First step was by plane to Ostend and then on to Brussels. On 6 June Reynolds stepped on to Mexican soil after taking a Sabena flight from Brussels to Mexico City. He travelled as "K.C. Miller".
His wife Frances stayed behind in the UK to be reunited with her son Nick. To do so, she went to Scotland Yard and asked to see Butler. She was questioned for over five hours, but she did not break. Frances Reynolds headed for Mexico after being reunited with Nick who has been looked after for her by Mary Manson for over 10 months. Mother and son travelled as Angela and Kevin Green. Frances would become known as Angela for the rest of her life.
Reynolds and Edwards followed what was going on in the UK with the gang by listening to the BBC World Service and reading the Telegraph and Times when they could get a copy.
The appeals were heard in London from 13-14 July at the Old Bailey. The gang were reunited at HMP Brixton for the appeals. Wilson, however, refused to attend the appeal. Cordrey and Boal did get their sentences reduced to 14 years, while Brian Field, as a gentleman and member of the establishment, had his sentence cut to 5 years. Following the appeal Biggs was transferred to HMP Wandsworth.
By not attending the appeal, Wilson was one of the few robbers not to be moved to another prison and on 12 August he escaped from HMP Winson Green, Birmingham. It was just one year and four days after the robbery. In April 1965, Wilson, who had been living in a safe house in Knightsbridge, left the UK for the South of France. He travelled in the name of "Alloway". Buster Edwards and his family flew from Dusseldorf to Mexico City to visit Reynolds.
After Wilson's escape, the other members of the gang all received extra tough treatment in prison. Many of them admitted later that they now looked more seriously at ways to escape. In June 1965 a plan by Goody to escape from HMP Strangeways in Manchester was uncovered.
On 8 July 1965, Ronnie Biggs escaped from HMP Wandsworth in London by climbing over the wall.
In August Prime Minister Harold Wilson suggested to the Treasury that they secretly replace all banknotes in the hope of flushing out the train robbers and the money from the robbery. Waxwork figures of Biggs and Charlie Wilson were now on display in the entrance to Madame Tussauds in London.
In October 1965 Biggs left London by boat to Antwerp and then by road to Paris. On 29 December Biggs flew from Paris to Sydney via Zurich, as "Terence Furminger", a writer born on 13 June 1928.
In January 1966 some of the key train robbers were transferred to HMP Parkhurst on the Isle of White (Goody, James, Wisbey, Hussey, Welch, Cordrey).
On 8 February Die Gentlemen bitten zur Kasse (The Gentlemen Require Payment), a drama based around the Great Train Robbery, was first broadcast in West Germany. Horst Tappert played the part of Reynolds and the show was a major hit, even in East Germany. Three days later John Wheater was released from prison.
On 4 April The Great St Trinian's Train Robbery had its premiere in London and Life magazine ran a major feature Greatest Train Robbery Legend. The story of the Great Train Robbery was not going away. A week later the Sunday Express published photos of the "wanted" men, those gang members known to be still on the run. On 12 April Jimmy White was arrested in Littlestone-on-Sea. He would be sentenced to 18 years.
In September Edwards and his family decided to return to the UK. Edwards gave himself up on 19 September and was sentenced to 15 years at Nottingham Assizes. Half of what the other robbers had received as a sentence just two years previously. The judge decided that while Buster was 'in the hierarchy' he was 'not one of the leading planners.'
Bruce Reynolds and family left Mexico in December 1965 and drove to visit Charlie Wilson for Christmas in Canada. They then moved on to the South of France.
In May 1967, Brian Field was released and in the August, Robbery, starring Stanley Baker and directed by Peter Yates, opened in London.
1968 saw the arrest of Charlie Wilson in Canada on 25 January, while Bruce Reynolds was arrested in Torquay, England, on 8 November. Reynolds was sentenced to 25 years in January 1969.
In October 1969 Biggs was traced to Melbourne, Australia. Armed police raided his house, but they missed him by hours. On 5 February 1970 Biggs left Australia on the RHMS Ellinis as "Michael Haynes". Unknown to Biggs, the previous day driver Jack Mills, had died of lymphatic leukaemia.
Biggs arrived in Brazil on 11 March 1970. On 20 April, Detective Chief Superintendent Tommy Butler, the Grey Fox, died, and on 26 June, William Boal, who was never a train robber, died in prison.